Help your Small Business with Video Surveillance
In light of today's media environment, video surveillance in dental practices is becoming increasingly prevalent. In the past, many practices are hesitant to get a video surveillance system, but in light of increasing reports about misconduct and break-ins, more practices are beginning to see the value of video surveillance.
Based on my experience at TechCentral, here are 5 ways dental practices have used video surveillance to help protect their practice:
Discourage thieves and vandals — No one wants to think they could be a victim, but sadly, bad guys exist. Thieves seeking an easy target. Vandals looking to randomly destruct. Dishonest patients. Disgruntled or even just lazy employees. TechCentral video surveillance can help discourage those who might otherwise take advantage of your dental practice by stealing or damaging equipment, supplies or money.
Property surveillance — Most think of a video surveillance system as a way to simply guard against break-ins and the loss of expensive equipment, supplies and even drugs with possible street value, but some practices also use a video system in a way that's similar to a front door bell. Even if an office manager is working in the back, they still have the ability to see patients who walk in so they can greet them and check them in.
Securing the patient data — One of your most valuable assets is your patient data stored on a server. Thieves may target patient data or simply the hardware itself. Cameras can help protect this data and verify that office procedures are properly followed so that only approved staff members are accessing your patient data.
Staff accountability — Video surveillance can also be used as an accountability tool for practice managers to make sure their staff aren't violating office policies. For instance, the dental practice may have a policy against the use of web browsing on mobile devices at work because devices on the practice network can transmit malware or viruses. The practice may also have a policy against using non-professional sites at work, including social media.
Protect staff from legal action — More practices are installing video surveillance in the operatory in the event a patient takes legal action and it's their word against the staff's. Similar to a dashboard camera in a vehicle, video can help verify or refute a specific claim, whether it concerns staff misconduct or patient procedures.
The Advantages of Professional Installation
You may be tempted to purchase a do-it-yourself video surveillance system online or in an electronics store which can lead mean more headaches and hassle. This distracts from your true focus, which is providing excellent dentistry care for your patients. Professional installation from TechCentral is a turn-key solution that can ensure proper wiring to each strategically located video surveillance camera in your practice. This will help identify perpetrators in the event of a break-in, theft, violence or damage to equipment, operatory and in key areas. TechCentral will install tested and pre-configured technology solutions that are expandable to meet the unique needs of your practice.
When selecting a dental IT provider, it's important to choose one that knows technology but also knows the specific needs of the dental industry. It's important to work with a partner that understands your whole practice, not just your video surveillance system.
To learn how to better protect your practice with TechCentral Surveillance. Schedule a free technology assessment now at //www.henryscheintechcentral.com/surveillance.
---
About Bryan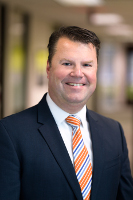 Bryan O'Loughlin began his career in dentistry in 2000 when he started a local computer company that focused exclusively on medical and dental clients. Shortly after that he partnered with a Dentrix reseller in the St. Louis market promoting the sales of Dentrix and other digital technologies.
Beginning in 2007, Bryan took on the role of Technology Sales Specialist, and then Digital Technology Specialist selling, consulting, and supporting the many technologies Henry Schein offers. in 2015, Bryan was promoted to the role of TechCentral Sales Specialist to help in growing TechCentral sales in the Western Area.
Originally posted on Dental Product Shopper
Author:
Bryan O'Loughlin
Published:
04/30/2018