5 Advantages of Bundling Your Dental IT Services
There are many different IT services that dental practices can purchase one-off from a local provider, but like many products in different marketplaces, choosing a service bundle from a national provider is ultimately likely to be more valuable to the dental practice. This is especially true when technology changes over time. Given the constant updates in hardware, firewalls and security, it's becoming easier for dental practices to have an integrated plan with an IT provider, like TechCentral, that not only understands their organization but also understands the industry in which they operate.
With IT service bundling, savings are the small "carrot"; the bigger reward is simplification. As long as you have a good partnership with your IT provider, bundling services will save money and reduce the number of customer service calls you have to make, leading to faster resolutions and giving you more time to focus on doing business.
Here are 5 key advantages of bundling dental IT services, as opposed to selecting services from individual providers:
Industry Knowledge — The IT needs of the dental industry are unique. It's important to choose an IT provider that has experience with the dental hardware and software that you use because a local provider may not know the specific requirements to integrate these tools. An experienced provider will also have an understanding of the importance of your data to your practice and thus provide a reliable backup strategy for that data.

TechCentral advantage: I recently spoke with a IT competitor who refer their clients' to TechCentral to do their data backup. Why would a dentist want to work with two IT providers when TechCentral can offer them end-to-end solutions to support all of their IT needs? Many local IT guys simply can't provide this level of comprehensive, remote support.

Save Time and Money — Having your IT solutions provided by various manufactures can easily become overwhelming when you take into account the multiple license agreements, warranty lifecycles and monthly bills. With bundling, you can take advantage of only paying one bill and having one point of contact for customer service and technical support. This can reduce your administrative costs significantly and save your staff valuable time.

TechCentral advantage: TechCentral has built and maintained relationships with many manufacturers to be able to provide the right solutions for your dental practice at an affordable cost. Because TechCentral is an end-to-end IT provider you won't have to call every individual manufacture when trying to diagnose an issue. Most issues can be addressed by calling one dental IT support team. This will save you and your staff valuable time and effort that is better spent with your patients.

Ability to scale as your practice grows — It's hard to know where your practice will be in 5 years but when you bundle your IT services, you have the ability to scale your needs as your practice grows. Whether you're a small practice that's adding an operatory or a large enterprise-level practice that's onboarding an entirely new office, you need a technology partner that can help make the process as painless as possible.

TechCentral advantage: With more than 15 years of experience and more than 45,000 computers, workstations and networks installed nationwide TechCentral has the experience to help expand your practice. And because TechCentral is an end-to-end IT provider they can help make sure any new hardware in your office will work in harmony with the rest of your technology.

Accountability — Bundling your IT services means that there's just one company to call if the practice has a technology problem. You don't have time to spend all day trying to figure out who to contact to help fix it. It should only take one support call to resolve the issue.

TechCentral advantage: When you have a TechCentral support plan, it's in the best interest of TechCentral to keep your IT running smoothly. TechCentral can take a proactive approach by monitoring your server, as well as monitoring for critical updates and patches to help protect your patient data. With a Hybrid Backup solution, TechCentral stores and helps protect your patient data, both locally and in the cloud, in the event of a disaster.

One-stop shop — You need a trusted provider who looks at the whole "IT puzzle" rather than each individual piece. A provider who understands how all of your technology will work together. Plus, if you work with a someone who knows the dental industry, they will more readily identify holes or deficiencies in your equipment or systems to recommend new technology and solutions.

TechCentral advantage: TechCentral provides an end-to-end technology assessment, evaluating your dental equipment and systems and helping identify vulnerabilities and solutions. We act as a trusted partner to assist and navigate the ever-changing dental technology landscape.
At the end of the day, you're a dentist who needs to focus on patient care, not the intricacies of IT solutions. Let TechCentral be your "IT guy" and take that stress away from you. Bundle your IT services and simplify your systems so you can focus on what you do best—dentistry. Click here to get your FREE technology assessment today.
---
About David Broom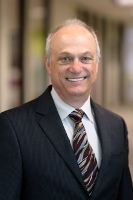 David Broom is Senior Director of Product and Business Development. David has a master's degree in Information Technology (IT) from the University of Texas in Dallas and has more than 35 years of experience from many global companies such as Hitachi Vantara, Methode Electronics and Acme Brick. In his current role, he is responsible for all aspects of the product management team at TechCentral by Henry Schein One, which identifies the ideal advanced technologies to meet the unique needs of the dental market and ensure that dental offices are using the right IT to be more efficient and effective.
Originally posted on Dental Product Shopper
Author:
David Broom
Published:
06/28/2018