Losing Individual Patient Data and How It Happens
Have you ever imagined how devastating it would be if you lost all of your practice data including your patient records, financial and accounting information, payroll, inventory…everything? No one really wants to think that they could lose all of their patient data, but this nightmare is a potential reality.
To help protect yourself, you should keep redundant copies of your valuable data in at least two protected locations. Your data should be stored both at your office, such as on a secure backup appliance (or an external hard drive), as well as at a protected offsite location, such as in the cloud.
As a former support technician and now a product manager for Henry Schein TechCentral, I've witnessed many dental offices that have lost data as a result of several different factors. Based on real–life scenarios I've encountered, here are the 4 top reasons why dental offices lose data:
1. Human Error
In my experience, the most common and overlooked factor for data loss is that of human error. Many dental office staff members aren't trained on how to properly back up their practice data. We often find that staff members think that they're doing a backup correctly because they were trained by another staff member. However, the staff member who trained them may have had misinformation about the correct procedures which now results in the backup failing.

I've also see dental office employees who want to free up some space on a computer so they delete important files. In one example I saw an office delete everything that they had scanned into their machine since 2007. It was one of the largest folders on the system, but the employee didn't recognize its purpose and deleted it. Thankfully, the practice had a reliable backup, and I was able to restore everything from it.

If I were a dentist relying on an employee to do the backup, I would review procedures with them once a month and probably quiz them. I would say, "Walk me through the steps of how you run a backup." One of the advantages of the Hybrid Backup Service from Henry Schein TechCentral is that it minimizes employee touchpoints. Essentially automating the backup process so dentists and their staff have less contact with it, which lessens the chance for human error.
2. Theft
I often times read articles where an office was broken into and enough equipment was stolen that the staff can't recreate their database. Dental offices without the deterrent of a surveillance system and with expensive equipment can be an attractive target for thieves. When a thief takes a server or computer, they might not even realize they're taking the entirety of the practice's database with them. Again, sometimes the office has a proper backup which can mitigate some of the effects of stolen hardware, but often times they don't, resulting in the loss of their patient data.
3. Cyber Crime
Cybercrime is no less devastating when it comes to data loss. If a cybercriminal hacks your computer using cryptoware or any other attack that locks data down and encrypts it for a ransom, your practice operations will come to a halt. That's why, according to our recent white paper, 48 percent of small–to–midsize businesses affected by ransomware decided to pay the ransom, even though it is not advised. However, with a proper backup strategy you won't need to be tempted to pay the ransom because you will be able to simply restore your data.
4. Natural Disaster
Other common reasons for data loss are fire and water damage, although I see the latter more often. I was actually working in support during the 2012 Hurricane Sandy. We had many offices calling us in advance of the storm and asking what to do and we saw the same thing happen with Hurricane Harvey in Houston. If there's going to be a major weather occurrence, dentists will want to take preventive measures to protect their data. By using the TechCentral Hybrid Backup Service, they also have greater peace of mind for handling unforeseen events.

TechCentral has a team that monitors your backup and sends emails and alerts to notify you of potential problems. This allows us to know if there's a problem with the agent, which is installed on the server, or if there's a problem with the in–office device, server connectivity, or file transfers. TechCentral also offers live technical support Monday through Friday, 7 a.m. to 7 p.m. EST to answer any questions or concerns you may have.
Protecting your practice data involves more than just purchasing a server or cloud–based technology. It's also about educating your staff and relying on a partner you can trust for automated backup. After all, dentistry and patient interaction is what you do best—leave the IT to the professionals. Learn how TechCentral can help protect your data today. Schedule your free network assessment at http://www.henryscheintechcentral.com/assessment.
This article is paid for by Henry Schein TechCentral. Certain components of the products or services described above are provided by third parties. Henry Schein, Inc. and its affiliates are not responsible for, and expressly disclaim, all liability for damages of any kind arising out of the use of those third party products or services.
About Howard Grainger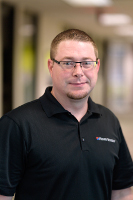 Howard began his career in dentistry in 2009. He has held roles as a Dentrix technician and a network/hardware technician. In his current role as Henry Schein TechCentral product manager, he continues to advance technology offerings in the dental market and helps dental offices find the right solutions for their various IT needs.
Author:
Howard Grainger
Published:
10/16/2018